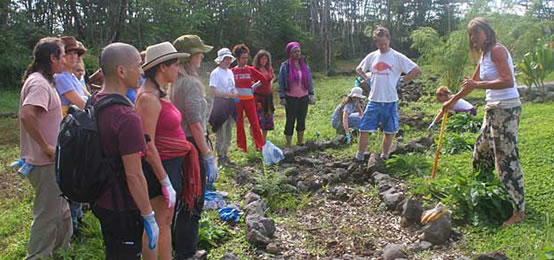 "Ho'opono Pono"
" Hawaiian Sanctuary"
It is truly a place to get away from it all and pamper yourself in beautiful surroundings with healthy foods fresh from their gardens (they grow their own fruits and vegetables) complete accommodations and no outside distractions. They want their staff to be all on the same page in working together and with the guests that come so they invited sis to share the messages of the ancestors and bring Ho'opono Pono into their lives.
"Big Island"
Come stay at a tropical oasis of natural beauty and abundance on the Big Island of Hawaii. Live in a cooperative community environment while exploring sustainability, Hawaiian style. Live in our eco-chic Jungle Pods, Jungalows or lodge rooms while immersing yourself in farm life, daily yoga, cultural classes (hula and more) and exciting events (see schedule to the right). Relax and rejuvenate in our modern spa/jungle gym facilities with a personalized detox program. Adventure to nearby lava flows, waterfalls and exotic black sand beaches. Discover why the Hawaiians call this the "Healing Island".
" Hawaiian Sanctuary"
The balmy air, smell of flowers, Hawaiian culture, blue Hawaiian moonlight, living, loving learning with the vibrant colors of nature and our friendly community. | Hawaiian Sanctuary