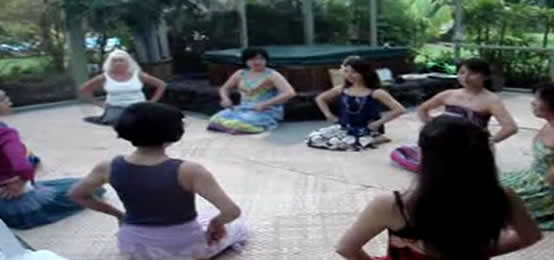 Hula Kahiko
Kahiko
The kahiko style is harder to do. It requires dedication and commitment and years of serious training. This is the true hula of our Hawaiian culture. It embodies the beliefs we hold in the sacredness of life, the power of our deities and their descendants on earth, procreation and the respect for all things. It is Hawaiian.
Solemn and Sacred
Hula kahiko, often defined as those hula composed prior to 1893 which do not include modern instrumentation (such as guitar, `ukulele, etc.), encompasses an enormous variety of styles and moods, from the solemn and sacred to the frivolous. Many hula were created to praise the chiefs and performed in their honor, or for their entertainment. Types of hula kahiko include ʻālaʻapapa, haʻa, ʻolapa, and many others.
Religious
Many hula dances are considered to be a religious performance, as they are dedicated to, or honoring, a Hawaiian goddess or god. As was true of ceremonies at the heiau, the platform temple, even a minor error was considered to invalidate the performance. It might even be a presage of bad luck or have dire consequences. Dancers who were learning to do such hula necessarily made many mistakes. Hence they were ritually secluded and put under the protection of the goddess Laka during the learning period. Ceremonies marked the successful learning of the hula and the emergence from seclusion.
Historical Chants
Hula kahiko is performed today by dancing to the historical chants. Many hula kahiko are characterized by traditional costuming, by an austere look, and a reverence for their spiritual roots.